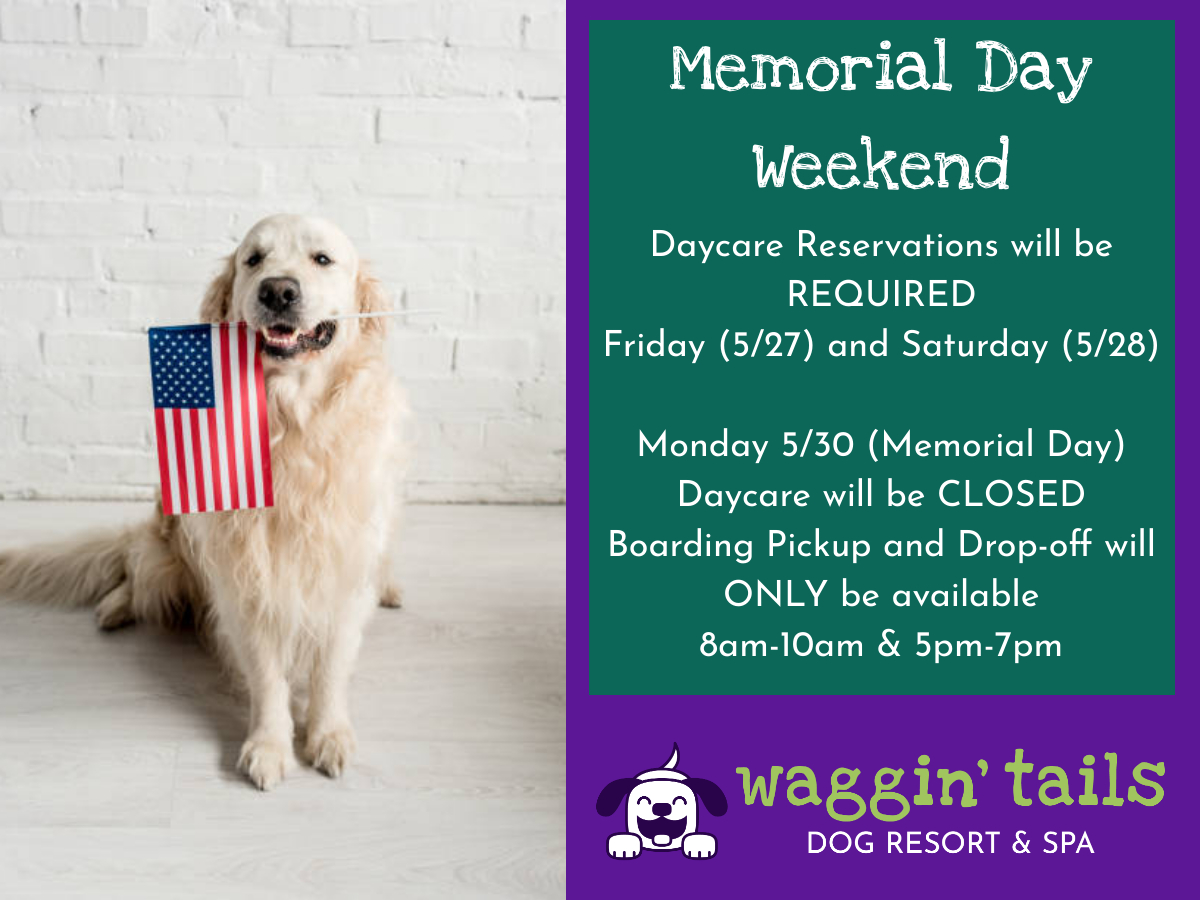 Memorial Day Weekend is just around the corner!
Boarding spaces are filling up quickly!
We recommend booking early in order to secure your pup's spot.
We will be REQUIRING Daycare reservations 5/27 & 5/28.
Walk-in spaces will not be available.
If your pup's boarding reservation falls on any dates of the holiday weekend (5/28-5/30), the following holiday boarding policies apply:
1. A 50% deposit is due at the time of booking. This deposit will go towards the final balance due at the time of check-out. If you need to cancel the reservation, you must do so no later than 7 DAYS prior to the start of your pup's reservation in order to receive a full refund. Any cancellations after the 7 day requirement will forfeit the deposit unless we are able to re-book your pup's kennel.
2. A 3 night minimum is required. If you choose not to board your pup the full 3 nights, you will still be invoiced for 3 nights.
3. Please remember our Holiday Hours! We will be open all day (8am-7pm) on Saturday 5/28. Sunday (5/29) and Monday (5/30), we will ONLY be open for boarding drop off and pick up from 8am-10am and 5pm-7pm. Daycare drop-offs will NOT be available and the facility will be CLOSED from 10am-5pm.
LOG IN HERE to schedule your pup's spot today!
If you have any questions, send us an email at info@waggintailsdogresort.com or call us at 303-255-6878
We Need Your Help!
Please write us a review!
Help us grow by writing us a review online! The more we grow, the more friends your pup will have to meet!
We also try to post daily on Facebook and Instagram for you to see awesome pictures of your pups playing and enjoying their time in daycare!

Find us on: Facebook, Google, and Instagram.
We are also on Nextdoor. Please take a minute to recommend us from your Nextdoor account so more people can find us!
Re-FUR-al Program!
Do you know someone with a pup that loves to play? Maybe they're a little nervous around other dogs and they need more socialization? Send them our way! We are offering you a FREE day of daycare for every new client you refer our way! So make sure to mention us to all of your dog-owning friends and family!

Rules and Restrictions: 1 free day of daycare will be loaded on to your account for each new client you refer our way, AFTER they have completed their first purchase of any daycare or boarding service of $50 or more. Limit 1 free-day per client-to-client referral. New client must use your name on their application as a reference. Not valid with any other offers or discounts. Cannot be redeemed for other services or for cash. Interview required to participate in daycare. All dogs must be current on Waggin' Tails entrance requirements. See Waggin' Tails for additional details.
Tail Wagger of the Month – Ranger

Ranger is a 2-year-old Rottie mix who has been joining us for daycare a few times a week for about a year and a half now. Ranger Danger is a wild child that believes everyone should be his friend. We've watched this boy grow and grow into a wild and crazy boy, but so sweet and loving at the same time. His favorite activities are non-stop wrestling and playing tug-of-war. His best friends are Cooper the Bernadoodle and Charlie and Pittie.

Thank you Meaghan and Shawn for making Ranger a part of our pack!
Thank you for supporting our small business!
Waggin' Tails is very proud to be family owned and operated. Bri, Kellen, and Melissa strive every day to make sure your fur babies are well taken care of and have a great social experience. Our staff members at Waggin' Tails are Canine CPR Certified and avid dog lovers.
While other large dog daycare chains place restrictions on their employees, all of our staff is encouraged to love and show affection to every dog as if they are their own. The dogs have always been and will always be our top priority.