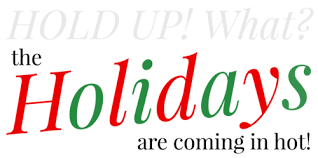 Important Holiday Updates and Reminders

We are officially FULL for overnight boarding over Thanksgiving.

We are accepting requests on our waitlist only assuming we will have a few cancellations as we get closer to the holiday.
We still have space for Christmas, but we anticipate to fill up quickly. If you are thinking about Christmas plans, we highly encourage you to book early to guarantee a spot.

Here are some updates and reminders of our holiday policies.
The following applies to Thanksgiving Day (11/25), Christmas Eve (12/24), Christmas Day (12/25), New Years Eve (12/31), and New Years Day (1/1)
Holiday Hours are:
8:00am – 10:00am & 5:00pm – 7:00pm
We are only open for boarding drop off and pick up during these major holidays. Daycare will not be available.
There is a 3 night minimum for all overnight boarding reservations that surround these major holidays. No exceptions.
A 50% deposit will be required for all reservations that fall on these major holidays. These deposits will be due no later than 30 days before the start of your pup's stay. If you already have a reservation, an email reminder will be sent to you soon. Reservations without paid deposits will be canceled.
We highly recommend reserving holidays spaces ASAP. Spots are being filled quickly. We anticipate to be completely booked at least 3 weeks before each holiday.
IMPORTANT – Reservations for DAYCARE will be required for the entire week leading up to each holiday. This includes November 22-24, November 26-27, December 20-23, and December 27-30. Space will be limited and we will not be able to guarantee daycare spots for walk-ins.

We will be open regular hours on both Black Friday (11/26) and Saturday 11/27. Reservations are Required!
LOG IN HERE to schedule your pup's spot today!
If you have any questions, send us an email at info@waggintailsdogresort.com or call us at 303-255-6878
Holiday Special Events
We have 2 exciting events coming up this Holiday Season!
1) Friday, November 26 is Black Friday! We will be hosting an in-house event and offering a discounted daycare package to purchase that day only!

2) Santa Pictures! Santa will be visiting for a few days for photos from December 20-22. Reservations will be required.

More d'tails about these events will be announced as they get closer!
LOG IN HERE to schedule your pup's spot today!
If you have any questions, send us an email at info@waggintailsdogresort.com or call us at 303-255-6878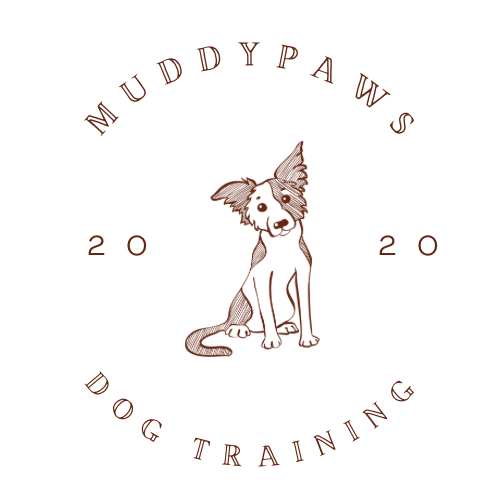 Dog Training w/ Muddy Paws
Schedule your FREE consultation here!
Cassie will be able to provide assistance and training to help your pup in these and other areas of modification:
1. General Obedience (puppies and adults)
2. Mild to Moderate Separation Anxiety
3. Troublesome Habits
(jumping, digging, resource guarding, leash issues, etc.)
There will be a couple different options for appointment types. (1) During your pup's daycare stay, Cassie will pull your pup out of the play yards to work with them one-on-one. (2) Schedule a specific appointment time to participate in the training with Cassie and your pup. At the end of each session, Cassie will supply you with some things to work on at home to help continue their progress.
Training sessions will run for 30-60 minutes, depending on the pup and the training needed. Costs will start at $200 for (5) 30 minute sessions, with discounts on multiple packages and the ability to add additional individual sessions after the first 5 are completed.
If you have any questions, feel free to reach out to us at Waggin' Tails, or Cassie by phone, email at muddypawsbehaviortraining@gmail.com , or visit her website.

We Need Your Help!
Please write us a review!
Help us grow by writing us a review online! The more we grow, the more friends your pup will have to meet!
We also try to post daily on Facebook and Instagram for you to see awesome pictures of your pups playing and enjoying their time in daycare!

Find us on: Facebook, Google, and Instagram.
We are also on Nextdoor. Please take a minute to recommend us from your Nextdoor account so more people can find us!
Re-FUR-al Program!
Do you know someone with a pup that loves to play? Maybe they're a little nervous around other dogs and they need more socialization? Send them our way! We are offering you a FREE day of daycare for every new client you refer our way! So make sure to mention us to all of your dog-owning friends and family!

Rules and Restrictions: 1 free day of daycare will be loaded on to your account for each new client you refer our way, AFTER they have completed their first purchase of any daycare or boarding service of $50 or more. Limit 1 free-day per client-to-client referral. New client must use your name on their application as a reference. Not valid with any other offers or discounts. Cannot be redeemed for other services or for cash. Interview required to participate in daycare. All dogs must be current on Waggin' Tails entrance requirements. See Waggin' Tails for additional details.
Tail Wagger of the Month – Lamb Chop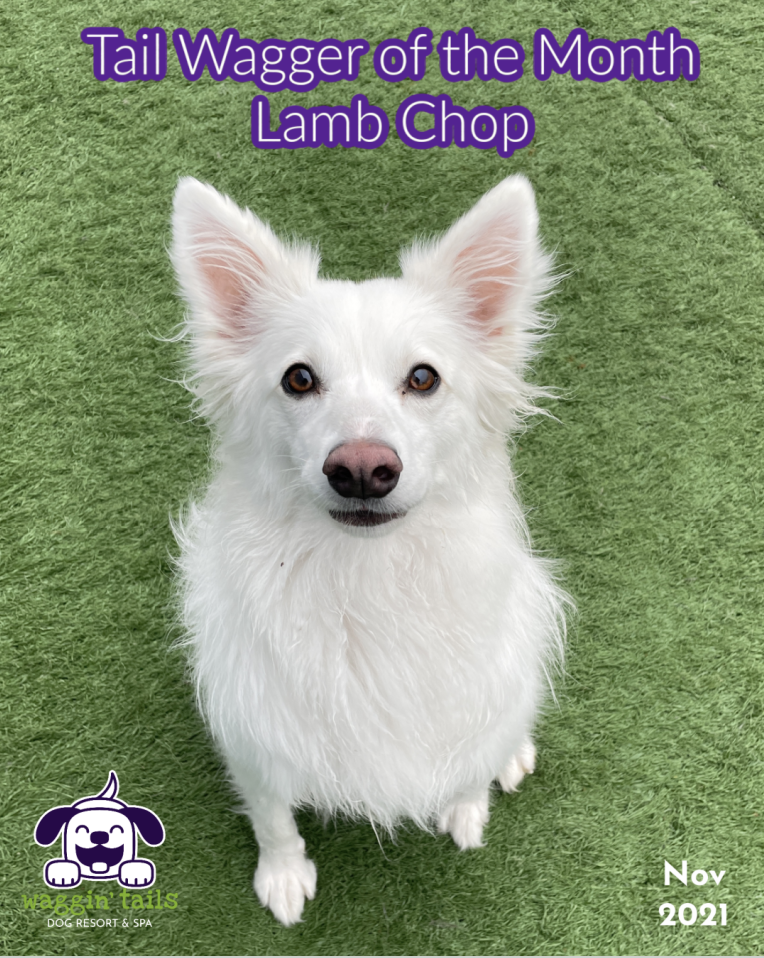 Lamb Chop is a year-and-a-half old American Eskimo. She has been joining us for daycare and boarding for almost a year now! We usually just call her Lamby, but this girl has some chops on her and loves getting the entire pack to sing on a daily basis. Her favorite activities are cuddling on laps, wrestling with her friends, doing zoomies, and singing. Her best friends are Abby the black lab puppy and Chloe the Golden Retriever.

Thank you Kirsten for making Lamb Chop a part of our pack!
Thank you for supporting our small business!
Waggin' Tails is very proud to be family owned and operated. Bri, Kellen, and Melissa strive every day to make sure your fur babies are well taken care of and have a great social experience. Our staff members at Waggin' Tails are Canine CPR Certified and avid dog lovers.
While other large dog daycare chains place restrictions on their employees, all of our staff is encouraged to love and show affection to every dog as if they are their own. The dogs have always been and will always be our top priority.